"You are invited to the spectacle. We provide you with different rooms. We participate with a larger and smaller piece. We take care of the catering. But everything else is your beer. You make the spectacle. We wish you a lot of fun and keep our fingers crossed. TOI Toi Toi."
The Volksbühnen-Spektakel was a two-part theater event in which the entire theater and the neighboring areas such as the Spielplatz and the Wiese were becoming the stage for a multi-day-long-happening as only the 1970s could provide. There were two Spectacles organized under the reign of Volksbühnen-Boss Benno Besson:
Spectacle 1 - Comedy / En-Suite (May 10-20, 1973)
Spectacle 2 - Zeitstücke (Modern Plays) (September 25th - October 7th 1974)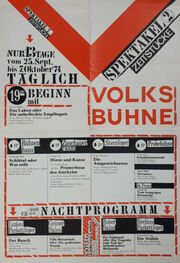 A lot was done to win the direct neighborhood as an audience, they were given a say in the design of the schedule, an ensemble member even signed up to become a member of the district committee.
The first spectacle began in the ticket office in the foyer of the main building. Two groups of actors each had to lure the audience to the Spielplatz, that way each audience member chose the course of their very own "theater evening". According to the Volksbühne, there was a festive mood in which "the theater finally became your theater [of the neighborhood]". [1]
In the planning for the second spectacle, even more groups of workers, employees, scientists, schoolchildren and students were included, who were able to visit the Volksbühne regularly for rehearsals, performances and discussions with the audience. "You are our partner" was advertised in advance.
Links
List of all productions on the Volksbühne's archive website
References
↑

Bücher der Volksbühne 1973/74